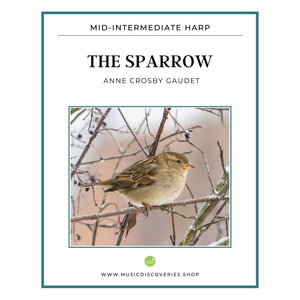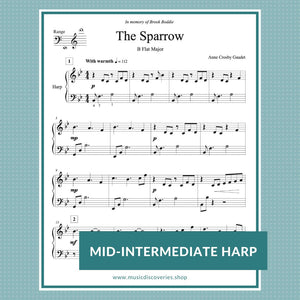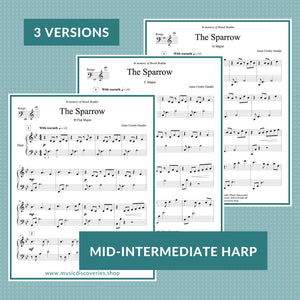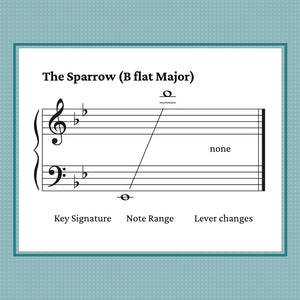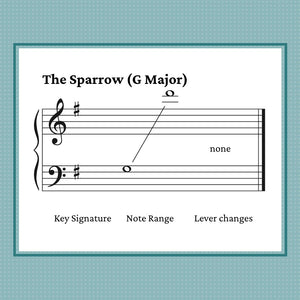 Product image 1

Product image 2

Product image 3

Product image 4

Product image 5

Product image 6

THE SPARROW is an uplifting mid-intermediate level harp solo, composed in memory of harpist and composer Brook Boddie. On the evening of July 15, 2020 I was saddened to learn that Brook had died of cardiac arrest earlier that day. I went to my harp and "The Sparrow" is the music that came through as I reflected on his kindness over the past years. I hope my composition reflects his warmth, light and uplifting spirit.
One of Brook's fine arrangements is called "His Eye is on the Sparrow". My composition hints at this melody as an acknowledgement to his beautiful music that people are drawn to for its heart and soulfulness.
Your download includes 3 versions in a choice of keys: B flat Major, C Major and G Major (for small harps).
Your PDF download includes a version for a small 19-string harp. You can hear it played on the Waring cardboard harp at timestamp 5:43.
Length: 3 pages (3 versions included)
Format: PDF (instant download by email)
Key: B flat Major, C Major, G Major 
Level: Mid-Intermediate Harp
Terms of Use: Single User License (see below)
Terms of Use
SINGLE USER LICENSE
Permission is granted for one person to print one copy for personal use. Digital files may not be shared with others.
PRIVATE STUDIO LICENSE
Permission is granted for the purchasing teacher to make unlimited copies for students within that person's private teaching studio. Digital files may not be shared. Duplication for the purpose of resale is not permitted, except to recover direct printing costs from a student.
Reviews