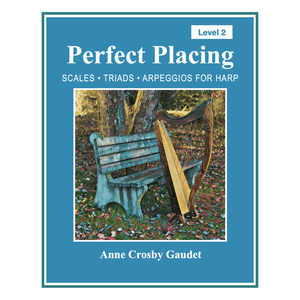 Product image 1

Product image 2

PERFECT PLACING LEVEL 2 is a collection of practical harp exercises that focus on the essentials of playing scales, triads & inversions and arpeggios. Challenge your fingers and your brain with this creative approach to learning valuable skills.
A great fit for early to mid-intermediate levels and written to be playable on smaller harps with bass C as the lowest string.
What's inside?
18 Scales exercises - you will be playing one and two octave scales in various parallel and contrary motion patterns. Develop coordination and finger independence by playing different note values in each hand.
10 Triad and Inversion exercises - master those inversion shapes with various solid and broken pattern combinations.
6 Arpeggio exercises - develop your arpeggio skills by building the technique step by step.
2 Bonus Linking Sequences - play these sequential patterns for a thorough finger warm-up.
Watch the video tutorial on using Perfect Placing Level 2 to start developing your scale patterns.
Pages: 18 pages
Format: PDF (instant download by email)
Key: C Major
Level: Early to Mid-Intermediate Harp
Terms of Use: Single User License (see below)
Terms of Use
SINGLE USER LICENSE
Permission is granted for one person to print one copy for personal use. Digital files may not be shared with others.
PRIVATE STUDIO LICENSE
Permission is granted for the purchasing teacher to make unlimited copies for students within that person's private teaching studio. Digital files may not be shared. Duplication for the purpose of resale is not permitted, except to recover direct printing costs from a student.
Reviews