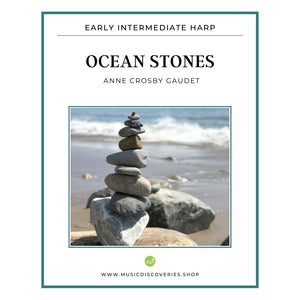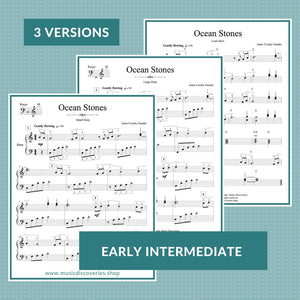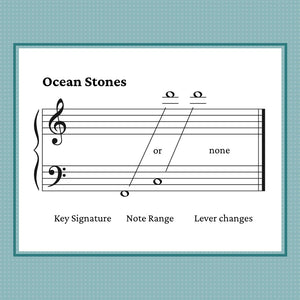 Product image 1

Product image 2

Product image 3

Product image 4

OCEAN STONES is a beautiful early intermediate harp solo that creates opportunities for developing your technique and expression. It was carefully crafted to feature the left hand 1-5-8-9-10 pattern along with other technical elements including harmonics, rolled triads and blocks thirds. This lovely piece is packed with teachable moments.
Your download includes 3 versions: one for larger harps, a small harp version and the lead sheet. Simply choose the best fit for you and your harp.
This piece comes with a bonus arrangement for small harps. Watch Anne play "Ocean Stones" on her Triplett Christina therapy harp on a beautiful Nova Scotia beach.
Join Anne for a free VIDEO LESSON to polish up your 1-5-8-9-10 left hand patterns. You'll also hear the studio version of "Ocean Stones" on her Dusty Strings FH36S (timestamp 10:43).
Length: 2 pages (3 versions included)
Format: PDF (instant download by email)
Key: C Major 
Level: Early Intermediate Harp 
Terms of Use: Single User License (see below)
Terms of Use
SINGLE USER LICENSE
Permission is granted for one person to print one copy for personal use. Digital files may not be shared with others.
PRIVATE STUDIO LICENSE
Permission is granted for the purchasing teacher to make unlimited copies for students within that person's private teaching studio. Digital files may not be shared. Duplication for the purpose of resale is not permitted, except to recover direct printing costs from a student.
Reviews