Music When Soft Voices Die, harp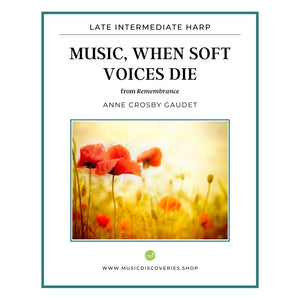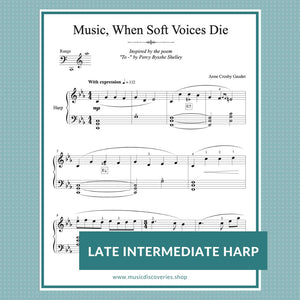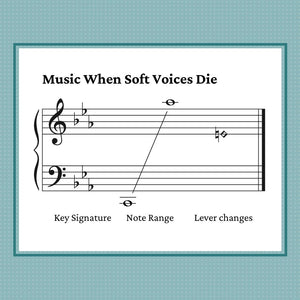 Product image 1

Product image 2

Product image 3

MUSIC, WHEN SOFT VOICES DIE was inspired by the 1821 poem, "To--" by Percy Bysshe Shelley.  The piece was originally released in the 2017 collection, Remembrance. It has since been revised as a single solo to include expressive phrase markings, improved layout and courtesy fingering.
This late intermediate solo is in the key of C minor (B flat, E flat, A flat) and requires lever changes with the middle E lever. Explore the full range of your floor harp with rich, powerful chords. The right hand showcases an expressive melody paired with nimble fingerwork and light ornamentation. Watch for changing meter signature and left hand harmonics.
Length: 3 pages
Format: PDF (instant download by email)
Key: C minor (3 flats)
Level: Late Intermediate Harp
Terms of Use: Single User License (see below)
Terms of Use
SINGLE USER LICENSE
Permission is granted for one person to print one copy for personal use. Digital files may not be shared with others.
PRIVATE STUDIO LICENSE
Permission is granted for the purchasing teacher to make unlimited copies for students within that person's private teaching studio. Digital files may not be shared. Duplication for the purpose of resale is not permitted, except to recover direct printing costs from a student.
Reviews