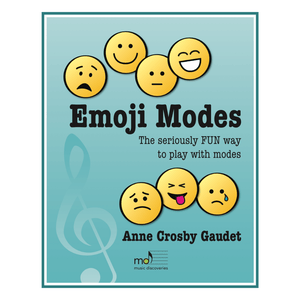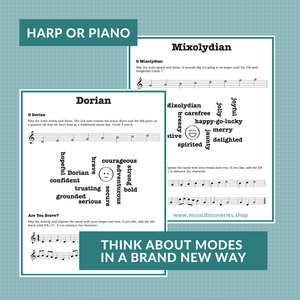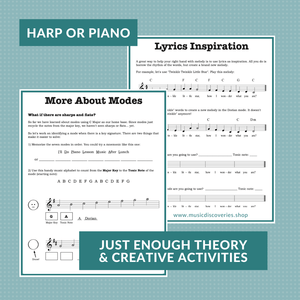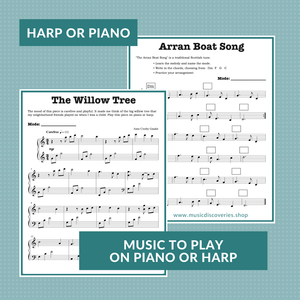 Product image 1

Product image 2

Product image 3

Product image 4

Learn how each mode has the potential to express a unique mood or character. And what better visual aid... emojis! EMOJI MODES is a digital workbook for harp or piano. Print the pages or use on your iPad or tablet.
Here's what you will learn:
Learn the 7 modes in relation to the key of C Major
Learn how to link the modes to specific moods or characters
Discover which chords to use so you can easily improvise in any mode
Create your own music using title imagery, word rhythm and character as inspiration.
Play with lead sheets
Learn "The Willow Tree" on piano or harp
Here is a 25 minute tutorial on getting started with modes at the harp.
Testimonials:
"Thank you for teaching us modes and how to use them. I like the emotions you put with them. I'm going to work on the modes at my daily practice starting tomorrow. I think I might understand them."
"I just watched Anne Crosby Gaudet's wonderful explanation of the modes!! FINALLY, I can understand. And I'm happy to say, I purchased the emoji modes workbook. Can't wait to dive right into that book!!"
"The Willow Tree" is a solo for either harp of piano. It is the one musical solo from the Emoji Modes Workbook.
Pages: 35 pages
Format: PDF (instant download by email)
Instrument: piano or harp
Level: Mid-Intermediate
Terms of Use: Single User License (see below)
Terms of Use
SINGLE USER LICENSE
Permission is granted for one person to print one copy for personal use. Digital files may not be shared with others.
PRIVATE STUDIO LICENSE
Permission is granted for the purchasing teacher to make unlimited copies for students within that person's private teaching studio. Digital files may not be shared. Duplication for the purpose of resale is not permitted, except to recover direct printing costs from a student.
Reviews