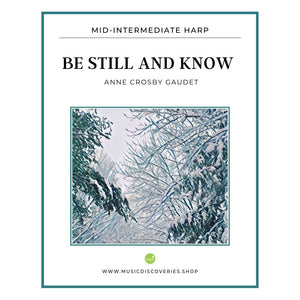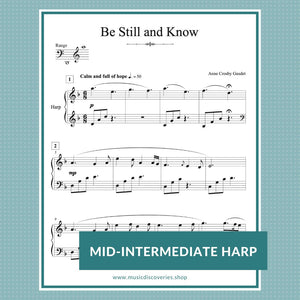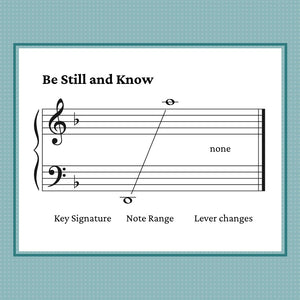 Product image 1

Product image 2

Product image 3

BE STILL AND KNOW is an original mid-intermediate level harp solo that captures a peaceful sense of calm and hope. You'll see delicate ornaments, nimble sixteenth note passages within a gentle 6/8 lilting meter. Express your heart through this music.
We had a contest to name this piece of music and over 200 of you submitted a title for me to consider. I chose "Be Still and Know", which was suggested by Madeleine Van Zyl. Maybe you recognize the title from a public domain hymn tune, which is based upon Psalm 46. Though I'm not making use of the traditional melody in this piece, I think the subtle reference is fitting, don't you?
"Be Still and Know" is available to learn with my Video Course, which includes 45 minutes of skilled instruction. The artistry course will reveal the elements required to play this piece with expression and musicality. Once you have learned the basic reading elements on your own, join me to study advanced concepts including phrasing, touch, color and tone and create a magical performance.
Visit my Podia website to learn more.
Length: 5 pages
Format: PDF (instant download by email)
Key: D minor
Level: Mid-Intermediate Harp
Terms of Use: Single User License (see below)
Terms of Use
SINGLE USER LICENSE
Permission is granted for one person to print one copy for personal use. Digital files may not be shared with others.
PRIVATE STUDIO LICENSE
Permission is granted for the purchasing teacher to make unlimited copies for students within that person's private teaching studio. Digital files may not be shared. Duplication for the purpose of resale is not permitted, except to recover direct printing costs from a student.
Reviews