Quirky Birds and Puppy Dogs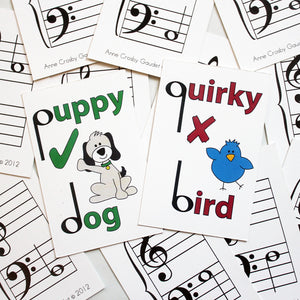 QUIRKY BIRDS AND PUPPY DOGS is a playful strategy for learning notes stem direction. When stems are placed correctly the notes look like p for puppy and d for dog! Watch out for q or b, those are the quirky bird notes! This sorting game will help students quickly identify the correct placement for stems. It only takes a few minutes to play during lesson time and it works.
Your download will include 8 Puppy Dog cards and 8 Quirky Bird Cards with a note on the reverse side. Mix them up and ask your student to sort them into two piles: a pile of correct stems and a pile of incorrect stems. Flip them over to see if you have a stack of puppy dogs and a stack of quirky birds.
---
Pages: 4 pages
Format: PDF instant download
File size: 841 KB
Terms of Use: Private Studio License (details below)
Printing Hints:
This is an easy print job, it only requires two sheets of card stock. You'll need to print double-sided in full color. Then cut the cards apart and you are ready to play.
Terms of Use
SINGLE USER LICENSE
Permission is granted for one person to print one copy for personal use. Digital files may not be shared with others.
PRIVATE STUDIO LICENSE
Permission is granted for the purchasing teacher to make unlimited copies for students within that person's private teaching studio. Digital files may not be shared. Duplication for the purpose of resale is not permitted, except to recover direct printing costs from a student.
Reviews