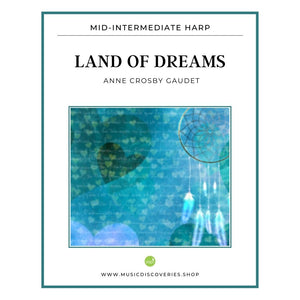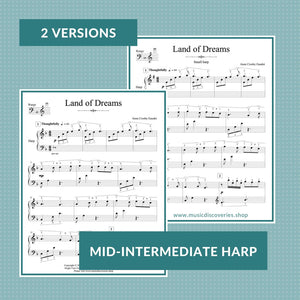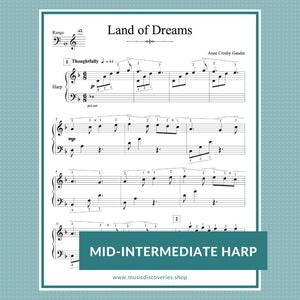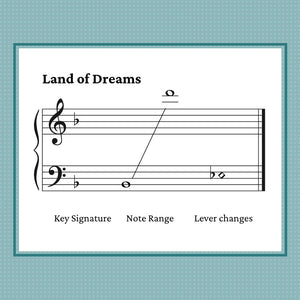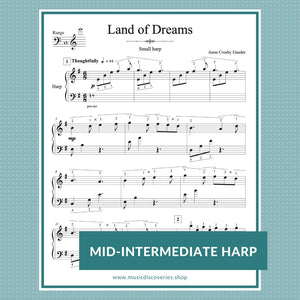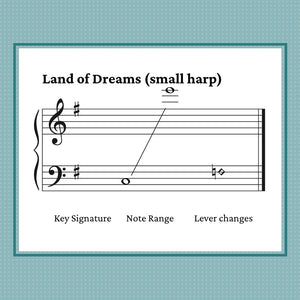 Product image 1
Product image 2

Product image 3

Product image 4

Product image 5

Product image 6
LAND OF DREAMS is an original composition for mid-intermediate harp. As we head into a new year I recognize that many people face the year with various challenges. The opening melody represents a difficult journey. Try humming this very long melody as you play and you'll discover that it is difficult to sing to the end of the phrase without breathing. It's beautiful, but difficult. The next section is more dreamlike with sparkling finger work, then we move into the relative major, which is full of hope.
The harp sheet music download includes two versions. In the video you are hearing me play in D minor/F Major. I included a second version in E minor/G Major, which can be played on a small harp with bass C as the lowest pitch.
Length: 4 pages (2 versions included)
Format: PDF (instant download by email)
Key: D minor or E minor
Level: Mid-Intermediate Harp
Terms of Use: Single User License (see below)
Terms of Use
SINGLE USER LICENSE
Permission is granted for one person to print one copy for personal use. Digital files may not be shared with others.
PRIVATE STUDIO LICENSE
Permission is granted for the purchasing teacher to make unlimited copies for students within that person's private teaching studio. Digital files may not be shared. Duplication for the purpose of resale is not permitted, except to recover direct printing costs from a student.
Reviews