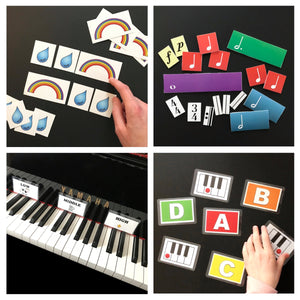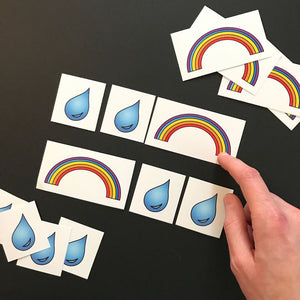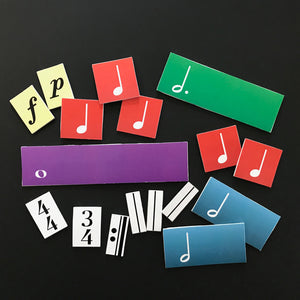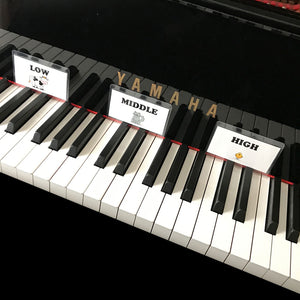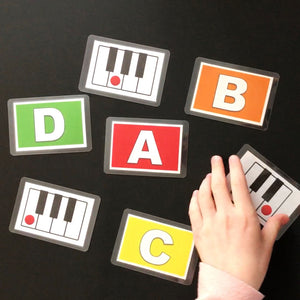 Product image 1

Product image 2

Product image 3
Product image 4

Product image 5

The TEMPO TIME TEACHING AIDS may be used with the Tempo Time beginner workbook or on their own with any beginner method. You'll use this handy collection of teaching aids over and over again with your young piano students.
This set includes four great teaching aids in one easy download.
Drip and Rainbow Cards - tap the rhythm of "drip" and "rain-bow" to introduce short and long sounds.
Rhythm Blocks - basic note values correspond to the size of each block. The set also include time signatures, bar lines and dynamics.
High/Middle/Low Cards - place the cards behind the groups of black keys to help reinforce high, middle and low for young children.
Music Alphabet Cards - The seven letters of the alphabet in rainbow colors with the keyboard image on the back.
---
Pages: 4 pages
Format: PDF instant download
Terms of Use: Private Studio License (details below)
Printing Hints:
I would send this project to a print shop for great quality paper and color. Remember, the Alphabet Cards need to be printed double-sided.
Terms of Use
SINGLE USER LICENSE
Permission is granted for one person to print one copy for personal use. Digital files may not be shared with others.
PRIVATE STUDIO LICENSE
Permission is granted for the purchasing teacher to make unlimited copies for students within that person's private teaching studio. Digital files may not be shared. Duplication for the purpose of resale is not permitted, except to recover direct printing costs from a student.
Reviews