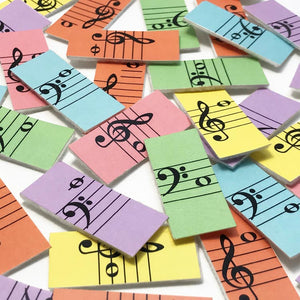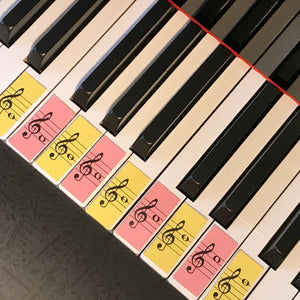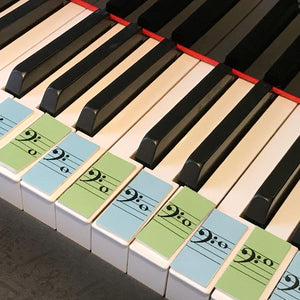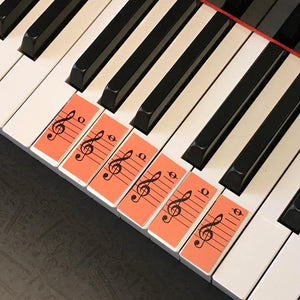 Product image 1

Product image 2

Product image 3

Product image 4

The TEENY TINY FLASHCARDS fit perfectly on the piano keys! Download and print to create a fun and handy resource for your piano students.
This is a wonderful teaching aid for students who are learning mnemonics for the line and space notes. Now you can make sure they are making a meaningful connection between "All Cows Eat Grass" and the correct location on the piano keys.
This set of Teeny Tiny Flashcards also includes three ledger lines above and below the staff.
---
Resource Type: printable digital download
File Type and size: PDF (213KB) (1 page color and 1 page B&W).
Terms of Use: Private Studio License (details below)
Printing Hints:
Your digital download includes two pages so you can choose how you like to print: full color or black. It's worth sending the full color version to a print shop for the best color and a good quality card stock. If you have colored card stock at home you might prefer to simply print with black ink on your home printer.
To avoid losing teeny tiny cards inside your piano, I would recommend buying a sheet of craft foam with sticky backing and adhering the flashcards to the foam.
Terms of Use
SINGLE USER LICENSE
Permission is granted for one person to print one copy for personal use. Digital files may not be shared with others.
PRIVATE STUDIO LICENSE
Permission is granted for the purchasing teacher to make unlimited copies for students within that person's private teaching studio. Digital files may not be shared. Duplication for the purpose of resale is not permitted, except to recover direct printing costs from a student.
Reviews