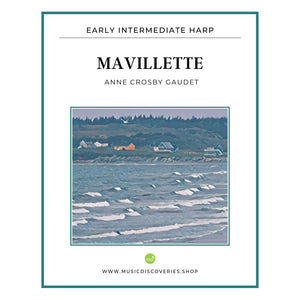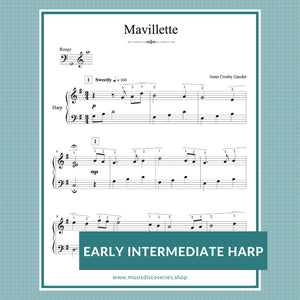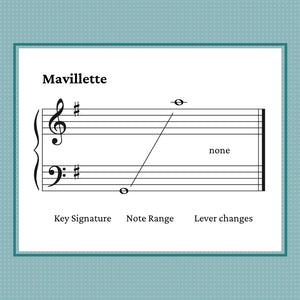 Product image 1

Product image 2

Product image 3

MAVILLETTE is an original tune that sounds so sweet on the harp. This early intermediate arrangement fits the hands beautifully and is a joy to play.
Your score includes fingering and bracket support for the right hand plus handy rehearsal marks to help structure your learning. The technique involves simple overlapping brackets, a few easy grace notes and a variety of simple left hand patterns.
The title is inspired by the beautiful Mavillette Beach in Nova Scotia.
"Mavillette" is available to learn with my Video Course, which includes over 90 minutes of focused instruction. If you need a little extra help with the counting and hands together coordination, this course will be a big help to you. My goal for this course is to set you up for success at playing this piece hands together. You'll discover how I break things down into manageable chunks. And you'll see how I solve issues before they become technical problems. 
Visit my Podia website to learn more.
Length: 3 pages
Format: PDF (instant download by email)
Key: G Major
Level: Early Intermediate Harp
Terms of Use: Single User License (see below)
Terms of Use
SINGLE USER LICENSE
Permission is granted for one person to print one copy for personal use. Digital files may not be shared with others.
PRIVATE STUDIO LICENSE
Permission is granted for the purchasing teacher to make unlimited copies for students within that person's private teaching studio. Digital files may not be shared. Duplication for the purpose of resale is not permitted, except to recover direct printing costs from a student.
Reviews