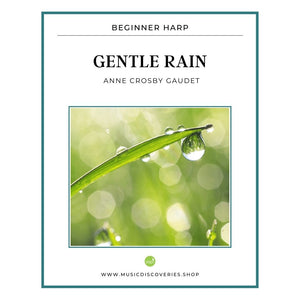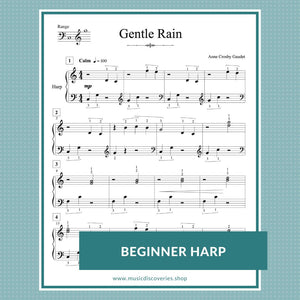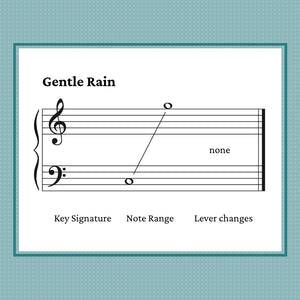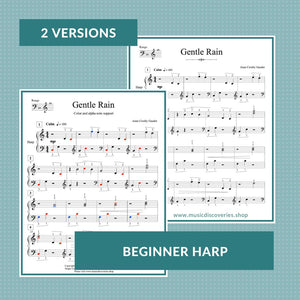 Product image 1

Product image 2

Product image 3

Product image 4

Product image 5

GENTLE RAIN is a perfect solo for beginners. Full of teachable moments, you will focus on basic intervals and placing your fingers in groups. Learn how to cross hands efficiently and enjoy the calm mood. A lovely piece for lessons, harp therapy and personal relaxation. This piece is playable on small harps and no levers are required.
Your download includes two versions of the solo:
Standard music notation
Colored noteheads with alpha note support (see preview above)
Length: 2 pages (includes 2 versions)
Format: PDF (instant download by email)
Key: C Major (no levers required)
Level: Beginner Harp
Terms of Use: Single User License (see below)
Looking for additional learning support? Join me at Podia to learn this piece step-by-step with me. In this beginner video course I'll help you learn to use intervallic reading as a smart strategy for learning this piece. And I'll help you practice so that your hands feel graceful and confident.
Terms of Use
SINGLE USER LICENSE
Permission is granted for one person to print one copy for personal use. Digital files may not be shared with others.
PRIVATE STUDIO LICENSE
Permission is granted for the purchasing teacher to make unlimited copies for students within that person's private teaching studio. Digital files may not be shared. Duplication for the purpose of resale is not permitted, except to recover direct printing costs from a student.
Reviews