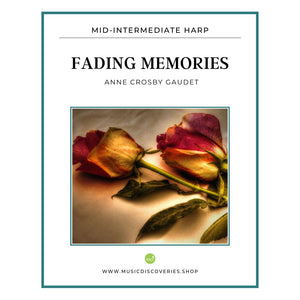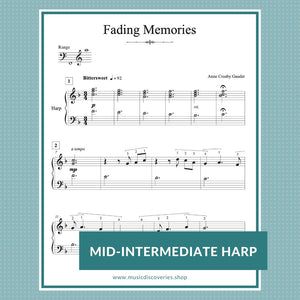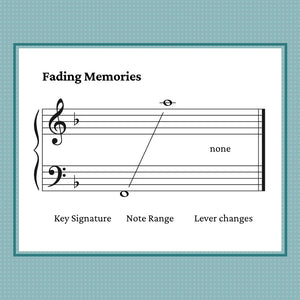 Product image 1

Product image 2

Product image 3

FADING MEMORIES encapsulates the bittersweet feeling of a cherished memory that has gradually faded away over time. The opening chords are played with a sweet and simple melody that strikes a familiar chord progression. The right-hand melody effortlessly flows over a gentle descending bassline, creating a sense of nostalgia and wistfulness.
To play this piece, you will need to master the placement and linking of 4-note patterns, as well as the technique of playing rolled chords. You should have a good understanding of counting dotted quarter note rhythms and possess an expressive sense of timing to bring out the full beauty of the music.
Experience the emotions of love, loss, and memories with FADING MEMORIES. Add it to your collection today and let the music transport you to a world of cherished memories.

Length: 3 pages
Format: PDF (instant download by email)
Key: F Major
Level: Mid-Intermediate Harp
Terms of Use: Single User License (see below)
Terms of Use
SINGLE USER LICENSE
Permission is granted for one person to print one copy for personal use. Digital files may not be shared with others.
PRIVATE STUDIO LICENSE
Permission is granted for the purchasing teacher to make unlimited copies for students within that person's private teaching studio. Digital files may not be shared. Duplication for the purpose of resale is not permitted, except to recover direct printing costs from a student.
Reviews