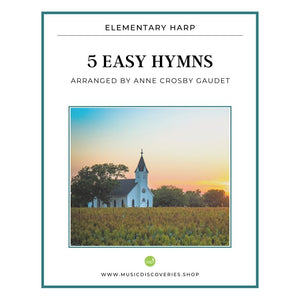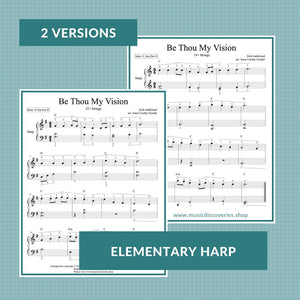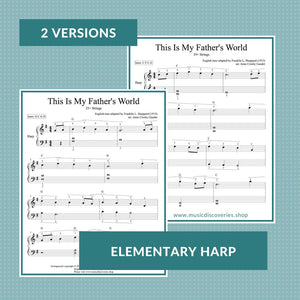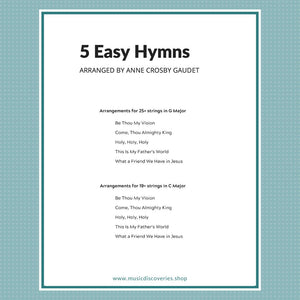 Product image 1
Product image 2
Product image 3

Product image 4

A collection of 5 EASY HYMNS that you can feel confident sharing with your friends and family. These beginner harp arrangements are accessible for elementary players with fingering and brackets clearly indicated. 
All 5 hymns are arranged in the same key. This allows you to create a beautiful medley of hymn tunes without worrying about lever changes. Chord symbols are included in the score to encourage you to improvise with your left hand patterns if you wish. Use the Intro and Ending chord progression suggestions to help you further embellish each piece.
Be Thou My Vision (0:00
Come, Thou Almighty King (1:07)
Holy, Holy, Holy (2:14)
This Is My Father's World (3:34)
What a Friend We Have in Jesus (5:02)
The G Major arrangements played in the video will fit small with with bass C as the lowest pitch. The updated score (2021) also includes a BONUS set of arrangements for 19+ strings in C Major. These are very nice to play on a small double strung harp.
Pages: 17 pages (2 versions of each hymn included)
Format: PDF (instant download by email)
Key: G Major and C Major
Level: Elementary Harp
Terms of Use: Single User License (see below)
Terms of Use
SINGLE USER LICENSE
Permission is granted for one person to print one copy for personal use. Digital files may not be shared with others.
PRIVATE STUDIO LICENSE
Permission is granted for the purchasing teacher to make unlimited copies for students within that person's private teaching studio. Digital files may not be shared. Duplication for the purpose of resale is not permitted, except to recover direct printing costs from a student.
Reviews