Big Adventures Small Harps, Level 1B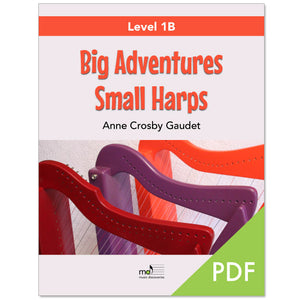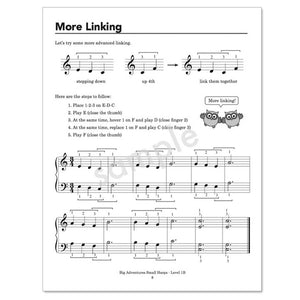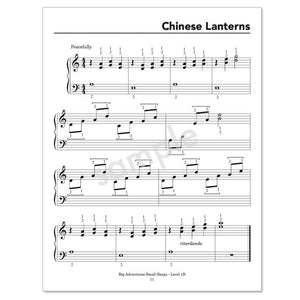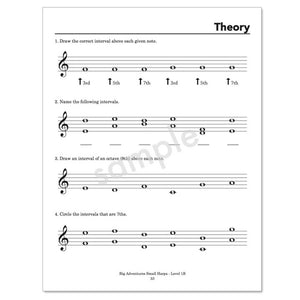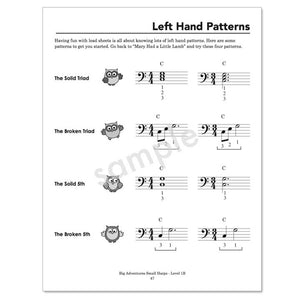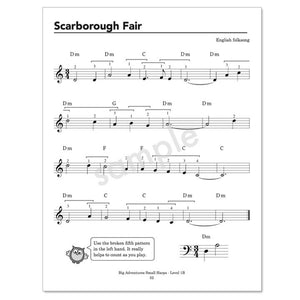 Product image 1

Product image 2

Product image 3

Product image 4

Product image 5

Product image 6

Product image 7

BIG ADVENTURES SMALL HARPS, Level 1B picks up where Level 1A left off, taking students toward more intermediate level reading and technique, while setting the stage for learning how to read chords and lead sheets.
Adults and teens with some harp experience will love using this book. They will be motivated by their well-paced progress and pleased with the beautiful music they are able to play. As the title suggests, students with small beginner harps can use this book! All you need is 26 strings and levers are not yet required.
The 58-page workbook includes five chapters covering: technique, warm-ups, note and pattern reading flashes, rhythm reading challenges, pieces to play and theory.
Level 1B covers the following basic concepts and more:
intervals of 4, 5, 6, 7, 8
placing 4-note groups
glissando, muffles, dynamics
duet playing
left hand patterns for improvising
rhythm: eighth + dotted quarter; ties; pick-up beat
major and minor triads
playing lead sheets
Whether you choose to print or view on your tablet device, the layout is attractive and pleasing to read. Every concept is presented and reinforced to give students a feeling of mastery every step of the way. In the first three chapters students will play expressive pattern-based soloslike "Song of the Sea", "A Royal Dance" and "Chinese Lanterns". Chapter 4 features teacher/student duets of familiar tunes, including "Early One Morning". The final chapter includes seven lead sheets of familiar folk songs, including "Scarborough Fair", "Molly Malone" and "Lavender Blue". Level 1B has lots of variety so students can start to develop a sense of their preferred musical interests and style.
---
Pages: 56 pages 
Format: PDF (instant download by email)
Instrument: suitable for 26-string harp or larger, no levers required
Level: Early Intermediate
Terms of Use: Single User License (see below)
Terms of Use
SINGLE USER LICENSE
Permission is granted for one person to print one copy for personal use. Digital files may not be shared with others.
PRIVATE STUDIO LICENSE
Permission is granted for the purchasing teacher to make unlimited copies for students within that person's private teaching studio. Digital files may not be shared. Duplication for the purpose of resale is not permitted, except to recover direct printing costs from a student.
Reviews