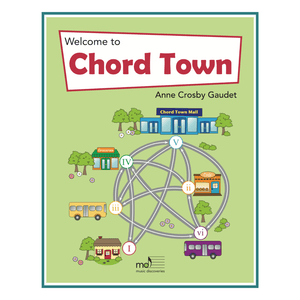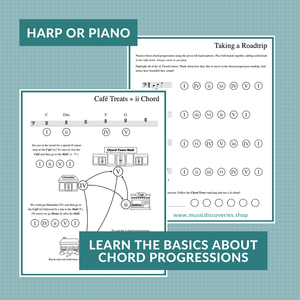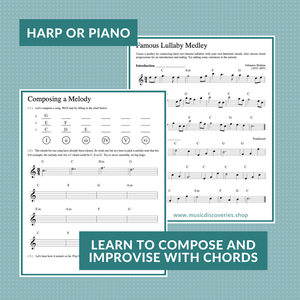 Product image 1

Product image 2

Product image 3

Product image 4

CHORD TOWN is a clever approach to making beautiful music with chords and patterns. As a pianist and harpist, I feel it is important to offer a practical book that is designed for both instruments. After visiting Chord Town, you will come away with a set of valuable skills to enjoy.
You'll be able to collect lead sheets of favorite songs, figure out tunes by ear, or use your imagination to improvise and compose your own music.
Chord Town offers the fundamentals to help you feel successful with chords and patterns at the harp or piano. Here's what you will learn:
Common ways to move through the six basic chords in C Major
Left hands patterns for creating beautiful accompaniments
How to read lead sheets
How to enhance a melody by adding harmony notes
How to choose your own chords for a melody
How to add introductions, endings and interludes
Learn cadence templates
Use triads and inversions for "smooth move" chords in the right hand
Use non-chord tones to dress up a melody
Using lyrics for rhythmic inspiration
How to expand a lead sheet with variations
Learn all of these valuable skills using familiar tunes like "Red River Valley", "Happy Birthday", "Lavender Blue", "Early One Morning", "Shenandoah", "Morning Has Broken", "The New World Symphony Theme", "Brahms' Lullaby" and "Waltzing Matilda".
---
Pages: 29 pages
Format: PDF (instant download by email)
Instrument: piano or harp
Level: Early Intermediate
Terms of Use: Single User License (see below)
Terms of Use
SINGLE USER LICENSE
Permission is granted for one person to print one copy for personal use. Digital files may not be shared with others.
PRIVATE STUDIO LICENSE
Permission is granted for the purchasing teacher to make unlimited copies for students within that person's private teaching studio. Digital files may not be shared. Duplication for the purpose of resale is not permitted, except to recover direct printing costs from a student.
Reviews