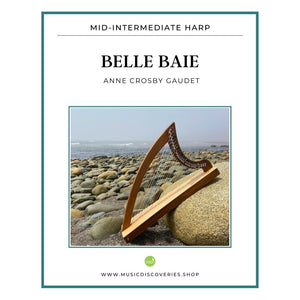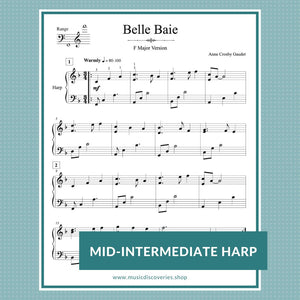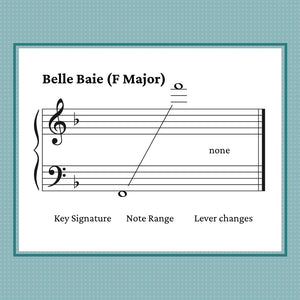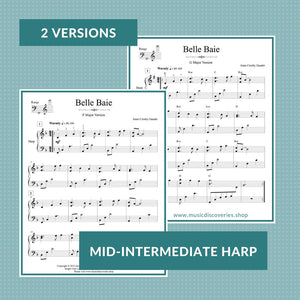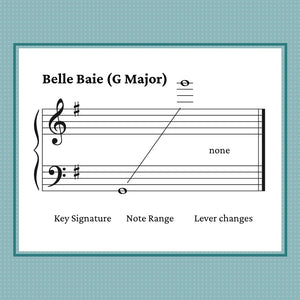 Product image 1

Product image 2

Product image 3

Product image 4

Product image 5

This beautiful mid-intermediate solo features a soaring melody, which requires well-finessed linking to create a smooth melodic contour. BELLE BAIE is a scenic little area on the French Shore of Nova Scotia, I wrote this piece with thoughts of my Aunt Rainy.
"Belle Baie" was originally released as part of the Morning Has Broken collection from 2012. The updated sheet music download is now available as a single solo and comes in the keys of F Major (original) and G Major. The G Major version includes chord symbols so you can play along with your favorite guitar friend.
Length: 3 pages (2 versions included)
Format: PDF (instant download by email)
Key: F Major and G Major
Level: Mid-Intermediate Harp
Terms of Use: Single User License (see below)
Terms of Use
SINGLE USER LICENSE
Permission is granted for one person to print one copy for personal use. Digital files may not be shared with others.
PRIVATE STUDIO LICENSE
Permission is granted for the purchasing teacher to make unlimited copies for students within that person's private teaching studio. Digital files may not be shared. Duplication for the purpose of resale is not permitted, except to recover direct printing costs from a student.
Reviews