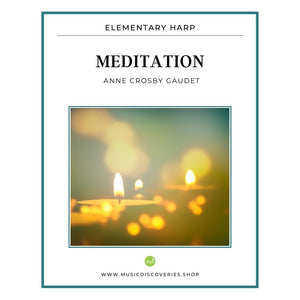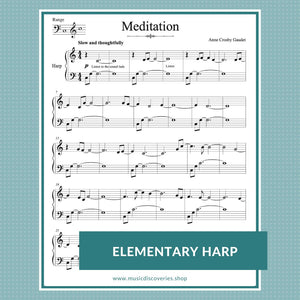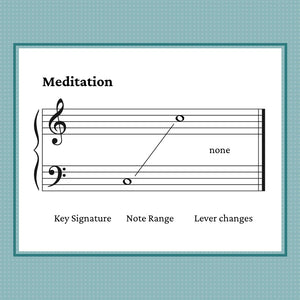 Product image 1
Product image 2

Product image 3

In MEDITATION, simplicity is very effective. The left hand settles on a simple C Major harmony. You can count the rhythm with a steady, slow pulse or treat the ties like fermatas and just listen to the sound fade. As you play the right hand, feel as though you are speaking with gentle inflection and natural breathing.
As a harp therapist, I am interested in using music to support sleep and create a gentle, healing space for people in need. On December 23, 2017 I made an improvised harp therapy recording and posted it on YouTube as a gift to anyone who might enjoy it or find comfort in the music.
A short time later I received a request for the sheet music, so I transcribed the first segment of the video. The sheet music download is FREE for personal use, do not copy or share. Friends or students should be invited to visit my website to download their own music.
Length: 1 page
Format: PDF (instant download by email)
Key: C Major 
Level: Elementary Harp
Terms of Use: Single User License (see below)


Terms of Use
SINGLE USER LICENSE
Permission is granted for one person to print one copy for personal use. Digital files may not be shared with others.
PRIVATE STUDIO LICENSE
Permission is granted for the purchasing teacher to make unlimited copies for students within that person's private teaching studio. Digital files may not be shared. Duplication for the purpose of resale is not permitted, except to recover direct printing costs from a student.
Reviews