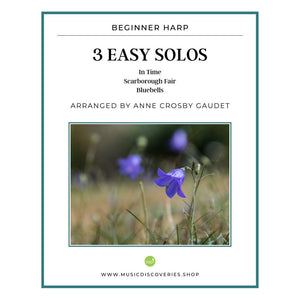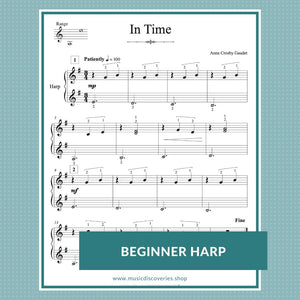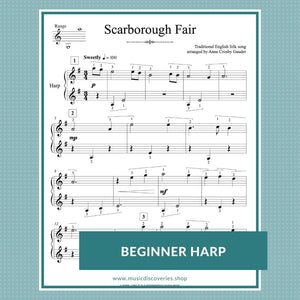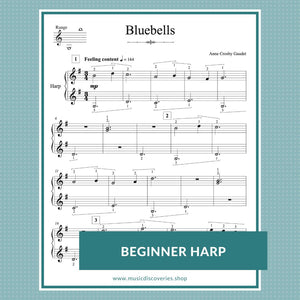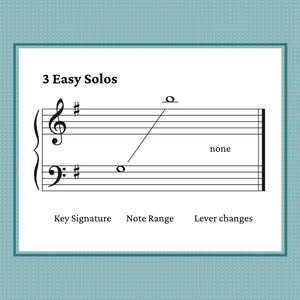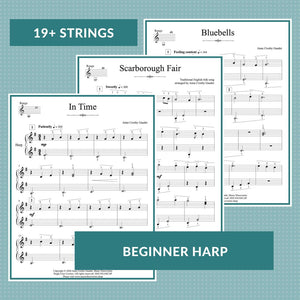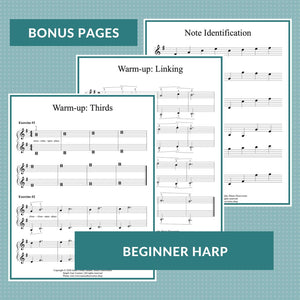 Product image 1

Product image 2

Product image 3

Product image 4
Product image 5

Product image 6

Product image 7

The 3 easy harp solos in this small harp learning bundle are perfect for beginners. Arranged for a 19 string harp or larger, the pieces are tailor-made to help you feel successful and expressive right from the start. Focus on intervals of thirds and simple bracketing along with treble clef note reading and simple rhythms to help develop your counting skills.
The small harp learning bundle includes 3 solos plus 2 technique warm-ups and a page of treble clef note identification practice. This is a perfect download for you if you are new to playing the harp or if you are looking for simple sheet music to play on your small harp.
What's included in the bundle?
IN TIME, by Anne Crosby Gaudet
SCARBOROUGH FAIR, traditional
BLUEBELLS, by Anne Crosby Gaudet
Warm-up: Intervals of 3rds
Warm-up: Linking Brackets
Theory Worksheet: Treble clef note identification
These pieces and warm-ups require an F sharp, so you'll either need to raise your F levers or simply retune your F strings.
Pages: 12 pages
Format: PDF (instant download by email)
Key: G Major (F sharp required)
Level: Beginner Harp
Terms of Use: Single User License (see below)
Terms of Use
SINGLE USER LICENSE
Permission is granted for one person to print one copy for personal use. Digital files may not be shared with others.
PRIVATE STUDIO LICENSE
Permission is granted for the purchasing teacher to make unlimited copies for students within that person's private teaching studio. Digital files may not be shared. Duplication for the purpose of resale is not permitted, except to recover direct printing costs from a student.
Reviews