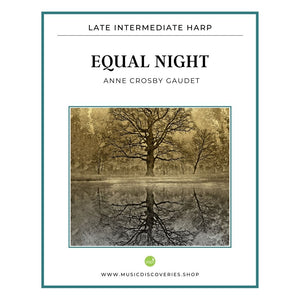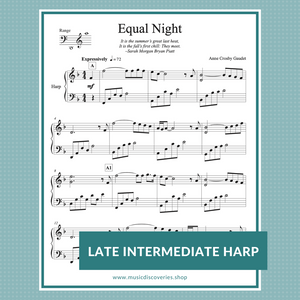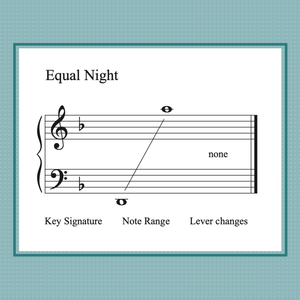 Product image 1

Product image 2

Product image 3

EQUAL NIGHT is an evocative late intermediate harp solo that fits the mood as summer moves into fall. It requires sweeping left hand patterns, expressive phrasing and an ear for voicing the left hand melody line.
The Fall Equinox marks the beginning of Fall, when day and night are nearly equal. I wrote this piece on September 22, 2016. The opening section reflects the warmth and longing for summer, while the middle section adds a chill and feeling of darkness.
"Equal Night" is available to learn with my Video Course. You get 90 minutes of focused instruction to help you choose fingering, finesse counting, understand the patterns and form and deep dive into the technical challenges. I invite your to check out my Video Courses at Podia to learn more.
Length: 2 pages
Format: PDF (instant download by email)
Key: F Major
Level: Late Intermediate Harp
Terms of Use: Single User License (see below)
Terms of Use
SINGLE USER LICENSE
Permission is granted for one person to print one copy for personal use. Digital files may not be shared with others.
PRIVATE STUDIO LICENSE
Permission is granted for the purchasing teacher to make unlimited copies for students within that person's private teaching studio. Digital files may not be shared. Duplication for the purpose of resale is not permitted, except to recover direct printing costs from a student.
Reviews