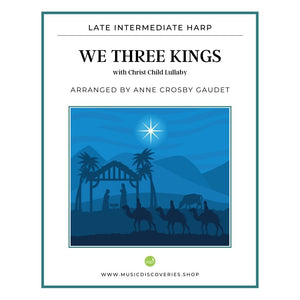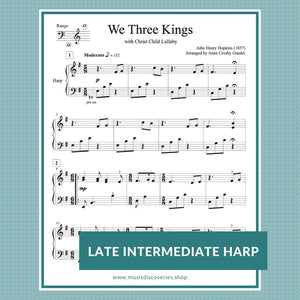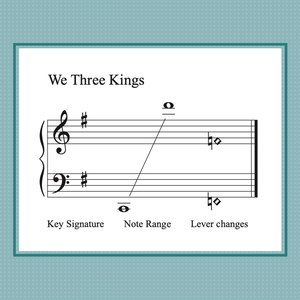 Product image 1

Product image 2

Product image 3

WE THREE KINGS is a classic Christmas carol, written in 1857 by John Henry Hopkins. This arrangement creates a wonderful sense of mystery with a time signature that shifts from 5/8 to 6/8.
Listen for reference to the CHRIST CHILD LULLABY, a traditional Scottish carol, which requires a simple lever change to transition into the Mixolydian mode.
This arrangement requires a larger floor harp and is appropriate for late intermediate players. The challenges include shifting time signatures, quick harmonics and scale passages. Minimal fingering suggestions are included in the score.
Length: 3 pages
Format: PDF (instant download by email)
Key: E minor
Level: Late Intermediate Harp
Terms of Use: Single User License (see below)
Terms of Use
SINGLE USER LICENSE
Permission is granted for one person to print one copy for personal use. Digital files may not be shared with others.
PRIVATE STUDIO LICENSE
Permission is granted for the purchasing teacher to make unlimited copies for students within that person's private teaching studio. Digital files may not be shared. Duplication for the purpose of resale is not permitted, except to recover direct printing costs from a student.
Reviews