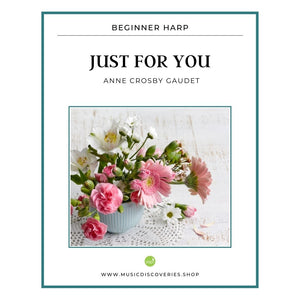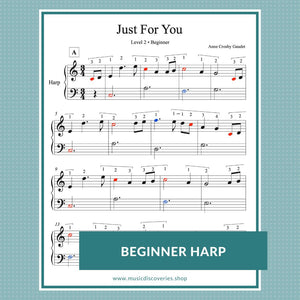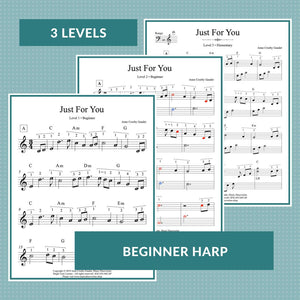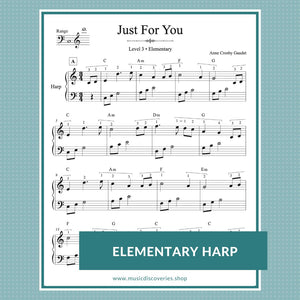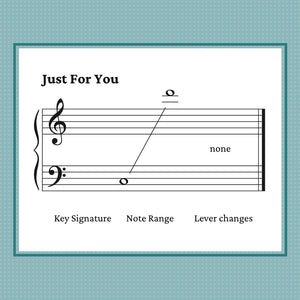 Product image 1

Product image 2

Product image 3

Product image 4

Product image 5
Product image 6

JUST FOR YOU is a sweet tune that will appeal to beginners. The download comes with three levels to suit various reading abilities and learning styles.
Level 1 - melody only with alpha-notes and chord symbols
Level 2 - melody with LH alpha-notes and color-coded Cs and Fs
Level 3 - both hands in standard notation with a more advanced LH arrangement
Join Anne for a FREE video lesson to help you get started learning the right hand melody by rote. By the end of the video you will know the A section melody of a brand new tune. Then you can use your sheet music to learn the whole thing.
Jump to timestamp 27:30 to hear the complete level 3 tune.
Once you have mastered the song, why not try the Play-Along Video with Anne on piano and harp.
Length: 3 pages (3 levels included)
Format: PDF (instant download by email)
Key: C Major
Level: Beginner/Elementary Harp
Terms of Use: Single User License (see below)
Terms of Use
SINGLE USER LICENSE
Permission is granted for one person to print one copy for personal use. Digital files may not be shared with others.
PRIVATE STUDIO LICENSE
Permission is granted for the purchasing teacher to make unlimited copies for students within that person's private teaching studio. Digital files may not be shared. Duplication for the purpose of resale is not permitted, except to recover direct printing costs from a student.
Reviews