Big Adventures Small Harps, Introductory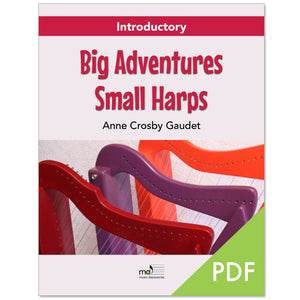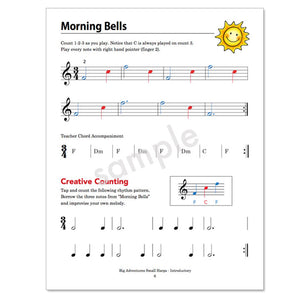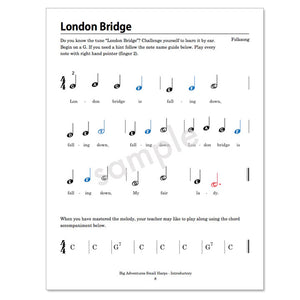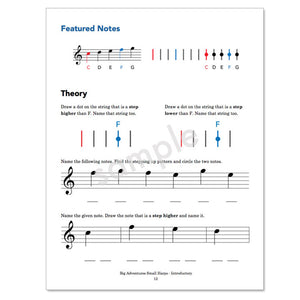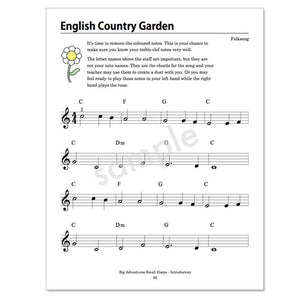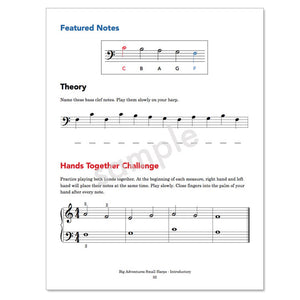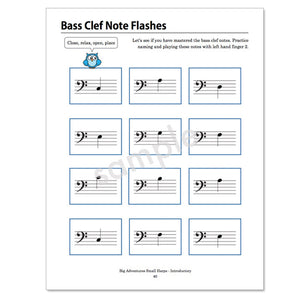 Product image 1

Product image 2

Product image 3

Product image 4

Product image 5

Product image 6

Product image 7

BIG ADVENTURES SMALL HARPS is an innovative series that aims to support teachers and students in the early stages of learning to play the harp.
The Introductory level is written for those who have little or no previous music reading experience. In this 40-page all-in one workbook, students gain confidence with reading notes, basic rhythms and so much more.
In the beginning we color the note heads Red for C and Blue for F to match the string color patterns on the harp. This is a helpful visual aid as students are developing hand eye coordination.
Each unit focuses on a group of featured notes. Students are invited to complete the theory activities to practice note identification. Simple concept pieces have been composed using these featured notes. Students are asked to identify repeating patterns in the music as an important reading strategy beyond basic note identification. Teachers may improvise a simple duet accompaniment using the given chord progressions.
Every unit includes a creative counting activity, giving students regular practice tapping and counting basic rhythms. It's also a great opportunity to encourage students to improvise their own music by using the featured notes along with the given rhythm.
Each unit ends with a familiar tune that students may learn by ear or by rote. The notes are written in letter name format as a guide, but the goal is to learn these pieces aurally. Some of these tunes have chord progression accompaniments so the teacher may play along. And several of the tunes are rounds, which are really fun if you are teaching a small group.
After the treble clef has been thoroughly presented we start working with the bass clef. We focus on Middle C down to Bass C for students who may be playing on a 26-string harp. Again we present a set of featured notes along with theory reinforcement.
At this point simple hands together reading challenges are introduced. Still using basic finger 2 technique, but now encouraging the student to place both hands at the same time.
The concept pieces appear to be more difficult, but take a closer look. The student is reading the bass clef while the teacher is accompanying with the treble clef part. We introduce bass clef notes little by little so students can feel comfortable and confident before moving on to the next level.
Pages: 41 pages (digital download)
Format: PDF (instant download by email)
Instrument: suitable for 25-string harp or larger, no levers required
Level: Early Elementary Harp
Terms of Use: Single User License (see below)
Terms of Use
SINGLE USER LICENSE
Permission is granted for one person to print one copy for personal use. Digital files may not be shared with others.
PRIVATE STUDIO LICENSE
Permission is granted for the purchasing teacher to make unlimited copies for students within that person's private teaching studio. Digital files may not be shared. Duplication for the purpose of resale is not permitted, except to recover direct printing costs from a student.
Reviews